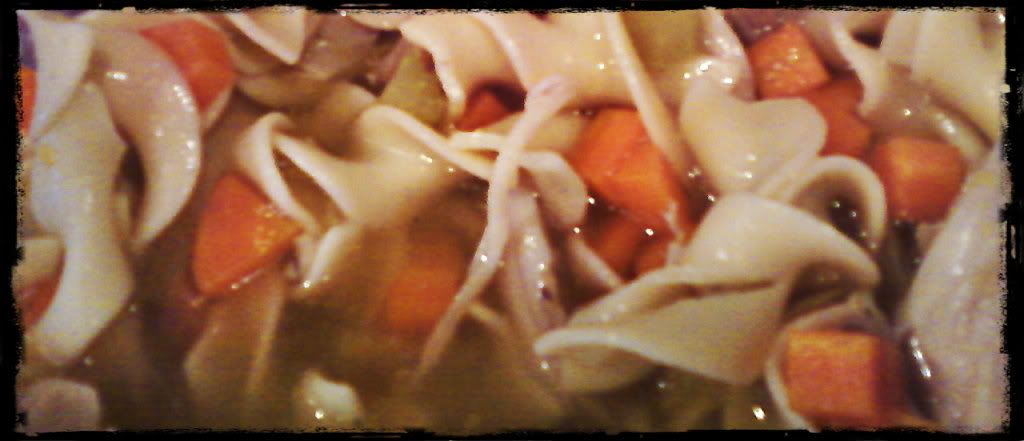 Recently, a very sweet woman at my church was nice enough to open her home up to those who were interested in taking part of a cooking class she was hosting. She, along with two other women, showed us how to make an amazingly simple meal that tasted soooo good! She ended up doing two classes and for the second class, she made chicken noodle soup. I tried the recipe myself this past week and though it didn't taste like hers, it was still pretty good. I've made note of what to do differently next time but you've got to start somewhere, right? So here we go...
1 store-bought roasted chicken
1 cup diced onions*
1 cup diced celery
1 cup diced carrots
4 cans (14 oz) low-sodium chicken broth
2 cans (10.75 oz) condensed cream of mushroom soup with roasted garlic*
2 teaspoon fine herbs (I bought Morton's Nature's Seasoning)
salt and pepper
2 cups cooked egg noodles (I used a whole bag)
*ingredients I did not use
"Remove the skin from the chicken and shred the meat from the bone. Put the chicken into a slow cooker along with the onions, celery and carrots. Stir in broth, mushroom soup, and fine herbs and season with salt and pepper. Cover and cook on high setting for 3-4 hours or low for 8-9 hours. When soup is finished, stir in egg noodles. Adjust seasonings and serve."
I don't like mushroom and after confirming with her that she didn't use them in the soup she made for us, I chose to leave them out. I probably should've added at least another can of broth to replace that liquid but I didn't, only using four (I bought two that were low sodium and two that were normal chicken broth). I also didn't let my soup cook long enough. It took longer than I planned on to shred the chicken and then cut and dice the vegetables. I ended up leaving it in the slow cooker for three hours but it needed at least four. While it tasted fine, the carrots and celery were both still a little crunchy. Overall, I was pleased with how it turned out :)